KCCC is presenting eight measures
1. Comprehensive support for the activities of citizens
Community activities
KCCC supports district cooperation with businesses, municipal government, professionals and community groups working to create a better urban landscape.
■ Consultation on community activities
Respond to consultation requests from the community with relevant information and constructive advice.
■ Community project grants
Provide funding to city councils for their projects.
■ Furnish expert advice
Assign experts to manage research and city planning studies, as well as respond to issues concerning the utilization of the local council's district planning systems.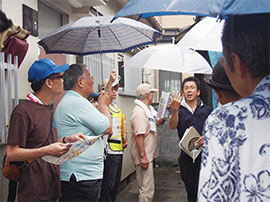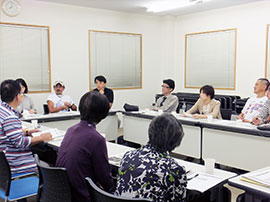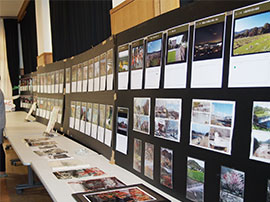 Kyo-machiya restoration
The Kyo-machiya (Kyoto townhouse) represents the history and culture of Kyoto. Proper conservation and restoration is necessary to ensure future generations may inherit this architecture. KCCC provides a variety of support through relevant architectural experts and organizations.
■ Kyo-machiya consultation
We provide the necessary information for addressing issues related to the maintenance of kyo-machiya and the preservation of their legacy. In addition we provide professional support in the form of real estate agents, architects and carpenters.
■ Kyo-machiya database
A 2008/2009 study identified approximately 48,000 machiya in Kyoto. These have been given ID numbers and the information is managed in a GIS (Geographic Information System) database.
This was established to promote the succession of the Kyo-machiya legacy. Many organizations, including the owners and residents, are engaged in activities to ensure the legacy of the Kyo-machiya continues.
2. Historic building preservation and restoration
KCCC is engaged in and supports preservation and restoration activities of historic buildings in Kyoto, like the machiya. It promotes awareness of urban landscape revitalization and educates the public on the importance of preservation.
The Machiya Machizukuri Fund was established in September of 2015. It provides grants for construction related to the renovation of machiya. It has had a dramatic effect in improving the urban landscape. It also holds events to increase awareness of its activities.
■ Survey of historic building candidates
This program conduct research and report on the cultural value of Kyo-machiya. It helps register historic buildings and tangible cultural properties, as well as support the conservation and restoration of machiya.
■ Kyo-machiya records
The machiya records are published to help illustrate the value of machiya preservation as a way of maintaining the living traditions and culture of Kyoto and passing this history on. It consists of both basic and cultural information as well as floor plans.
The goal is to increase awareness of the value of machiya among owners and encourage proper maintenance and management of these buildings thereby ensuring their legacy.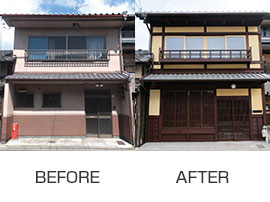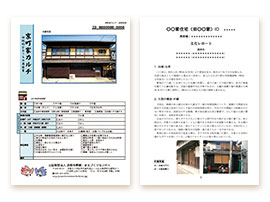 3. Dissemination of information
Symposiums and workshops
KCCC conducts various symposiums and workshops to both increase knowledge and strengthen capabilities by communicating information about the urban landscape and city planning to residents, professionals and municipal governments.
This is aimed at developing a talent pool for urban planning. Various educational urban planning seminars are held offering diverse perspectives of Kyoto's urban landscape.
History of Kyoto city planning
City planning training
Kyo-machiya restoration
District planning
■ Urban landscape development symposiums
These symposiums are aimed at the preservation and restoration of Kyo-machiya. They are organized to offer solutions to a variety of issues by collaborating with businesses, municipal governments, universities and local residents.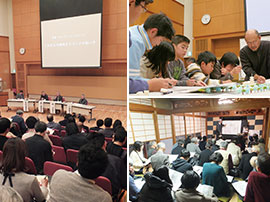 Media activities
KCCC utilizes a variety of media to effectively communicate information about its philosophy and activities.
■ Website administration
■ Sale of various booklets, technical reports, etc.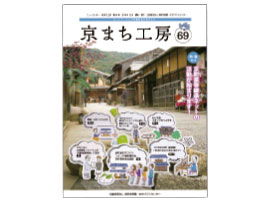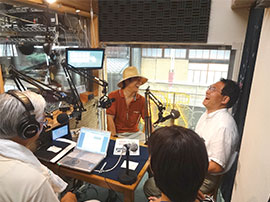 4. Exchange and cooperative activities
KCCC works together with various urban planning experts, agencies, agencies and organizations to exchange information and support projects. Its cooperation with international historical heritage organizations helps create awareness of Kyoto traditions and promote the conservation of world culture.
■ Cooperation with the World Monuments Foundation (Kyoto Machiya Revitalization Project)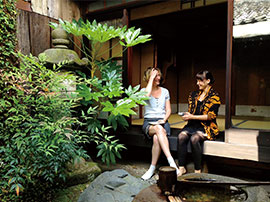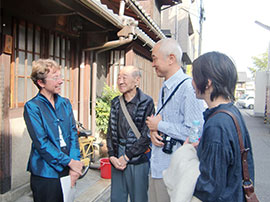 5. Research
KCCC has been commissioned by the county, city and various private businesses to conduct research and surveys on methods for community development that will create a framework for the legacy of Kyo-machiya.
■ History of modern community development (since 2013)
■ Urban regeneration model (2004 - 2006)
■ Kyo-machiya urban planning (1998, 2003, 2008 - 2009)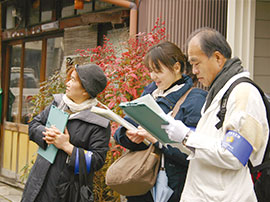 6. Development of human resources
KCCC staff trains volunteers and advocates of urban landscape development through guest lectures and seminars promoting our activities both domestically and abroad.
■ Internships
■ Guest visits
■ Lecturers
■ Urban landscape management seminars
■ Cultural management training courses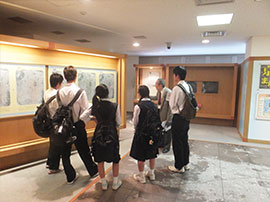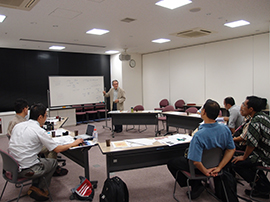 7. Urban landscape maintenance operation
Authorized under the Municipal Landscape Act, which promotes the creation of quality metropolitan design, KCCC's urban landscape maintenance operation provides the following services:
■ Assign experts to provide relevant information, counseling and other assistance needed for the creation of a quality urban landscape
■ Supervise historic buildings under the Management Agreement
■ Research for the creation of a quality urban landscape
■ Urban landscape management seminars
■ Other relevant work related to the promotion of a quality urban landscape (i.e. business development)
* The urban landscape maintenance operation was established on December 17, 2004 as part of the support system provided under the Municipal Landscape Act. On May 9, 2005 KCCC was the first non-profit organization in Japan to be designated a public service by the Urban Landscape Administration.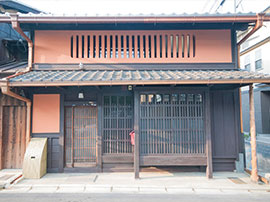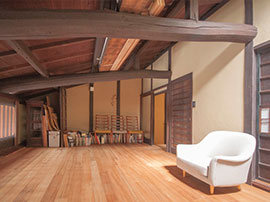 8. Management of Kyoto Center For Community Collaboration
Kyoto Center For Community Collaboration operates as a base for the gathering, dissemination and exchange of information.
■ Reception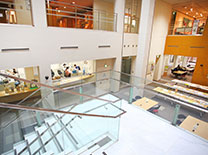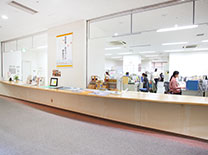 ■ Salon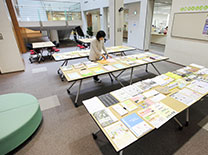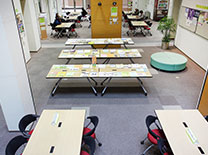 ■ Workroom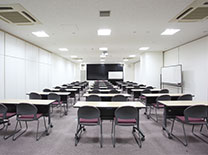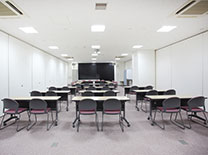 ■ Website management
■ Exhibition space: "Kyoto Street Corner"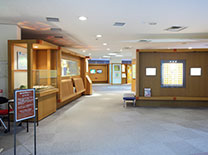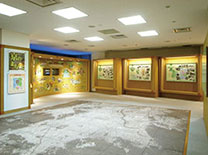 ■ Library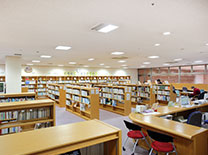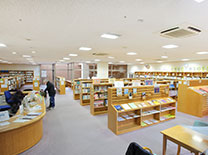 ■ Urban development studio
■ Kyo-machiya
information lab